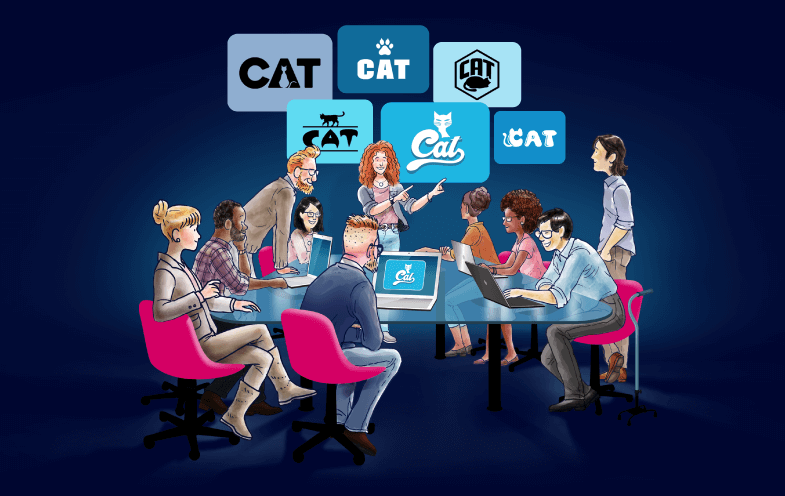 Tips from the Experts – Rebranding your Business
In today's edition of 'Tips from the Experts', we asked three business professionals to share their top 5 tips on how to effectively rebrand a business. Rebranding is not a new concept. But why do companies take on this often mammoth task? And what's in it for them? Businesses may decide to rebrand their business for a number of reasons; from rebranding due to an acquisition or the introduction of a new product or service, to reinventing the company's identity and messaging in response to significant changes within the business or to better stand out in the market. Whatever the reason, it's important to manage the rebranding process effectively and communicate your new identity to your stakeholders and customers in a clear and consistent way. Here's what a few industry experts have to say about the process of rebranding.
It's hard to find a marketplace that isn't crowded anymore, so you have to try to stand out from the competition and be remembered by customers. Our intention was to create a 'face' for the company so that people would remember us – and 'Dave the Badger' was born. He was a friendly cartoon character who added humour and personality to our brand in what could be considered a purely functional marketplace of printer cartridges.
Dave didn't last, but it was a vital learning curve. He wasn't important to our customers and in pouring our energies into creating him, we lost sight of what the customers wanted: excellent service, fast delivery and, of course, the best possible prices.
Our brand still has personality, but now it shines from the inside out. Our in-house culture is structured around a series of core values that can be summed up in one line: make it easy for the customer. These values permeate all we do, so that means the entire team is united and decision making is easy.
It's important to consider the end goal when using a support tool – such as PR – to boost your brand. Your branding should extend service reach and drive sales. A lot of companies invest in securing profile coverage of the guys at the top, but this doesn't do a lot for your brand if your customers are the general public.
You don't need to conjure up a personality for your brand, even if it's in an unsexy retail market. It might be important if your brand is aspirational and it needs to fit into a particular lifestyle you want to promote. If your company provides what customers need, rather than want, then prices and service are more important than personality.
Chris Lishman, Marketing Executive at CIA Fire & Security Ltd.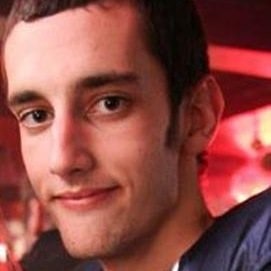 Whether you are rebranding due to an acquisition or whether it's just time for a change, you need to be clear about why you are rebranding and what you aim to get out of it. A rebrand without purpose or direction can do more harm than good.
Planning is key. A rebrand is a massive task to undertake, even for the smallest of companies, and without meticulous planning it can very quickly go wrong. Ensure you prioritise the workload and provide timescales to be adhered to.
One of the hardest parts of a rebrand is the changes being made, especially if you are an established company. A rebrand brings about many changes; it's not just the logo and brand colours that change (although this is usually the biggest change). Allow the creative team some freedom. Provide them with a detailed brief based on your vision, but allow them the freedom to do what they do best; you may be surprised by the results they produce when given artistic license.
A rebrand has a tendency to focus on the external stakeholders of a company (and rightfully so, they are one of the main reasons your company exists). But you also have to think about those inside your company. Your internal stakeholders can be your biggest brand advocates', especially when generating new business. Make sure they are on board, and that they understand why you are rebranding and the direction the company is going.
Ensure you are communicating with the correct people regularly. Lead the discussion, especially when it comes to your existing customers. Make sure they don't discover your new look themselves; spread the word through newsletters, social media accounts and blog posts.
Proactive Successful Rebranding Strategy
Since its launch, Instagram has introduced a number of changes in the way their almost 1 billion users can utilize the app. They have added features such as various custom filters. They even hosted several contests to amp the engagement level of their users. On top of these, Instagram has collaborated with other brands like Boomerang and Layout. Hence, they've added new features unique to those sub-brands as well.
Now, Instagram's logo embodies how far it has evolved. It's modern and creative – pretty much like their target users. While the brand didn't exactly need to reinvent itself since it was doing quite well at the time, the move to rebrand was prompted by their desire to bring more value to their clients.
Final thoughts
Given the impressive results a successful rebranding strategy can bring a to business, it comes as no surprise that 70% of brand managers admitted to focusing their efforts on building a loyal following among their clients. However, it's critical to bear in mind that change is the only constant thing in business.
A brand that refuses to adapt to the changes around it is destined to end in failure. That's why you must keep evaluating your business and ask whether or not you're services or products are still relevant to your target market. Most of the time, the minute changes are the ones that rake in the biggest profits.
However, rebranding is a complicated and risky undertaking. This is why this process shouldn't be taken lightly when considering your brand development. You should consider all angles before committing to the reinvention strategy. Keep in mind that rebranding is not just a way to keep your business up to date with the trends, it's actually one of the most sustainable ways to survive.
Successful rebranding examples
Chobani rebrand – Standing out in a sea of competitors
Within the past few years, Greek yogurt has represented about half of the entire yogurt space at grocery stores in the U.S. And, that huge growth has been fueled, in large part, by Chobani, which more than a decade ago, commanded only 1% of the yogurt market.
But instead of making its packaging brighter or futuristic, Chobani went in a different direction, picking a friendly serif font, an off-white background, and watercolor paintings of fruits rather than studio photographs favored by their competitors.
Mailchimp rebrand – The design is in the details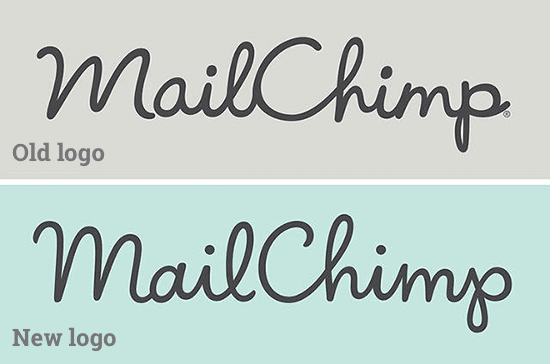 We tend to notice big redesigns and rebranding disasters, but sometimes small tweaks and restraints are more effective. Taking stock of what's there, optimizing it, and then distilling it is often a better strategy than a complete overhaul.
They just wanted a facelift—one of those classy facelifts that make your friends ask you if you've been sleeping better lately or lost some weight because you look like a more vivacious version of yourself and not like a different person.
Those in the know did not miss the subtle evolution. Leading design website Brand New raved that it was "[A] Fantastic evolution that maintains the character of the original with enhanced performance," and Design Taxi called it a "subtle but refreshing makeover."
Kodak rebrand – Going backward can move you forward
After the lamentable death of film, Kodak had almost completely disappeared from the consumer market, finding most of its success in large-scale printing systems and the enterprise market. Kodak rebranded to herald its return to selling directly to consumers.
Kodak sought to embrace its rich tradition with its logo redesign. It was a savvy strategy for Kodak to evoke its original branding in the redesign. By including their instantly recognizable color scheme into their rebrand, they were able to keep their company's legacy at the forefront of their customer's minds.
Strategy: Sometimes, looking to the past can help you update for the present. Using visual and design cues from your company's history can help make your current brand more relevant.
Google rebrand – Be mobile, consistent, and cross-platform friendly
Google's redesign of its ubiquitous multicolored sans-serif logo was highly publicized and roundly criticized when it was first released. The web was flooded with people carping about how terrible the logo redesign was.
Google has been reinventing itself to meet mobile devices' challenges, and the logo redesign was part of this process. Google reaffirmed this in their original announcement of the redesigned logo, saying "our brand should express the same simplicity and delight they expect from our homepage, while fully embracing the opportunities offered by each new device and surface."
"We think we've taken the best of Google (simple, uncluttered, colorful, friendly)," the brand's leadership team writes, "and recast it not just for the Google of today, but for the Google of the future."
Google's redesign honored the character of their original logo and managed to push it into the future; this was a notable success of incorporating existing history into your brand's strategies for moving forward.
Airbnb rebrand – embrace your critics and roll with the punches

It's a symbol that, like us, can belong wherever it happens to be… It's a symbol for people who want to welcome into their home new experiences, new cultures, and new conversations. We're proud to introduce the Bélo: the universal symbol of belonging.
The reaction was swift, and as is the way with the internet, vicious, with Gizmodo ridiculing: "The "Bélo," as Airbnb refers to the mark "internally," is supposed to reflect the "hierarchy of decisions" that users make when booking a place to stay.
But for most of us, it just reflects genitalia." The new icon trended on Twitter for eight hours and was mocked and parodied mercilessly, including the inevitable (and NSFW) Tumblr site filled with parodies.
Airbnb's bold attempt to welcome mashups and personalization of their brand was not missed by many, including Andrew Leonard from Slate, proclaiming, "Who cares what it looks like? Airbnb's new logo is pure genius." He wrote, "If Airbnb's goal was to get people talking about Airbnb, then this campaign is pure genius and can only be considered a massive success. The sheer velocity of the snarking is a sign that Airbnb, like Apple, plays an important role in our emerging culture."
Examples of rebranding failures
Radio Shack rebrand failure

With the halcyon days of gathering around the family radio long past, Radio Shack is no longer a name that conjures images of cutting-edge technology. When Lee Applbaum stepped in as Radio Shack's chief marketing officer in 2008, he sought to distance the brand from its more antiquated roots by rebranding as "The Shack."
Despite a new focus on wireless technologies in their retail locations to accompany the new name (and a small bump in profits immediately following the rebrand), Radio Shack continued to decline, and "The Shack" was abandoned.
Radio Shack had established itself as a resource for DIY electronics enthusiasts, and that consumer niche had kept them aloft for years. When they rebranded as "The Shack," they turned their back on those DIY hobbyists to pursue modern tech-savvy consumers. However, the broader tech competition proved too stiff, and Radio Shack filed for bankruptcy in 2015.
How to avoid this: Choose a new business name, company logo, and corporate identity that won't alienate your most profitable audience. And, if you're going fishing for a new audience, make sure it's a fish you can catch.
Tropicana rebrand failure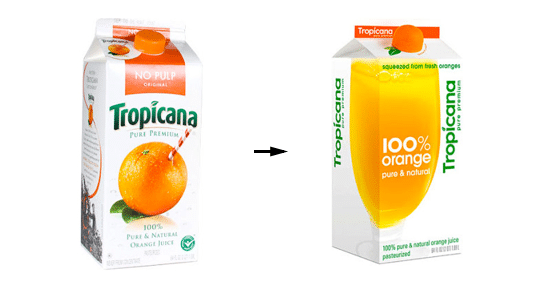 The original Tropicana logo featured a unique, signature design— an orange punctured by a straw. The logo implied that Tropicana's juice was fresh, undiluted, and direct from the orange.
The singularity and playfulness of the orange and straw visual made for a powerful brand image. It was instantly recognizable on the shelves and had had years to establish a relationship of trust with Tropicana's consumers.
Tropicana's packaging's new image depicted a large glass of orange juice, which unfortunately read as a flat, orange gradient. The traditional Tropicana font was traded for a more streamlined modern font, and every last bit of recognizable character was lost.
It's possible that some consumers couldn't even find Tropicana on the shelves because of how stark the differences in packaging were. Those who did find the newly packaged Tropicana strongly disapproved. Information Resource, Inc. reported that Tropicana's sales dropped by 20% immediately following their brand relaunch.
How to avoid this: Aim for a signature look that says something about who your company is. If you already have one, abandoning your signature look for a nondescript design is a step in the wrong direction. Keep what works for you and discard what doesn't.
PricewaterhouseCoopers rebrand failure
PricewaterhouseCoopers took the rebranding plunge in 2002 when they decided to sell off their business's consulting branch. Bizarrely, they chose to name their new consulting offshoot after a day of the week: Monday. The strangely vague and unrelated new name was met with immediate ridicule and was abandoned within a year.
The first lesson is purely common sense— a business name that has nothing to do with your business tells your audience nothing about your business; and, consequently, nothing about why they should care.
Keeping the same business and domain name ensures that consumers can find you after you've unveiled your new brand identity. It probably goes without saying then that it's not a great idea to both change your website's domain name and select a new name that's so ubiquitous that your business will never be found in a Google search again.
"Monday" was not specifically related to PwC's financial consulting business, nor was it unique enough to make a useful search engine term. Potential clients would be forced to comb through pages and pages of "Monday" results before they finally stumbled upon the Monday they were looking for. They would most likely give up long before then.
How to avoid this: Uniqueness and Specificity are key. Select a business name that will allow your audience to find you in the online crowd. And, if changing your name is part of your rebranding plans, choose a name that reflects who your company is and what you do.
Hershey's rebrand failure

Hershey's original logo featured a 3-dimensional design depicting their name and a dainty, silver-wrapped Hershey's Kiss at the far right side. While utilizing a flat, modern style and font, their new logo remains reminiscent of the previous, well-known logo. However, the reworked Kiss strongly resembles a brown, stylized steaming pile of poo. This did not go unnoticed.
Sources:
https://www.instantoffices.com/blog/business-growth/tips-experts-rebranding-business/
https://chameleoncollective.com/launch-successful-rebranding-strategy/
https://www.crowdspring.com/blog/how-to-rebrand/